Student Research and Virtual Reality Education Module
The MOCORE Lab is proud to have a community educational program centered around the development of virtual reality (VR) platforms for improving physical and cognitive rehabilitation. The sections below present previous and current research projects from local New Jersey high school students. Additionally, the MOCORE Lab is developing an Education Module to teach the basics of creating environments with the Unity VR engine.
Program Coordinators: Sean Sanford M.S., Mingxiao Liu M.S., and Samuel Wilder M.S.
Download a PDF of the MOCORE Virtual Reality Education Module
Last Updated May 1st, 2021
---
Jeeva Murugan - Cognitive Agency Rehabilitation
---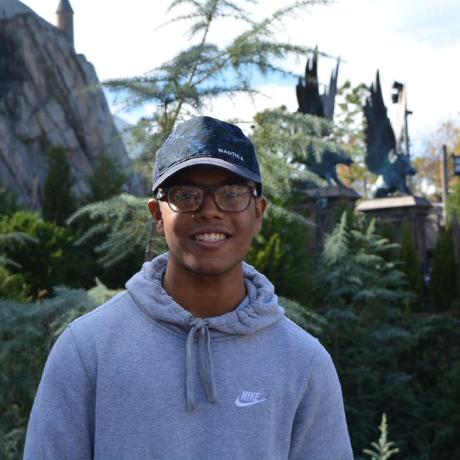 This application was built as a virtual gamified enviornment, which allows patients to play through various levels while training their sense of agency. The goal of the game is simple: place a cup in a coaster. However, the more levels the player completes the harder this simple task takes (i.e. the coaster size increases and the time interval to react decreases). While desigining the game, I added certain subliminal cues that enhance a users sense of agency the more they play, allowing them to have a non-invasive form of rehabilitiation.
Download a PDF Tutorial Document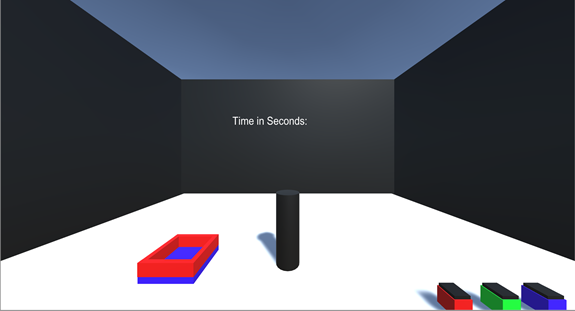 Participant view with the Head Mounted Display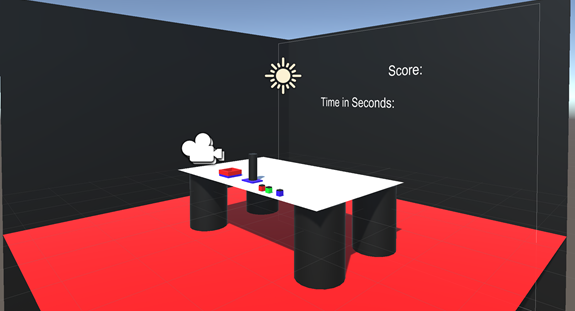 Additional view of the VR environment
---
Kwabena Boateng - Sense of Agency and Movement Control
---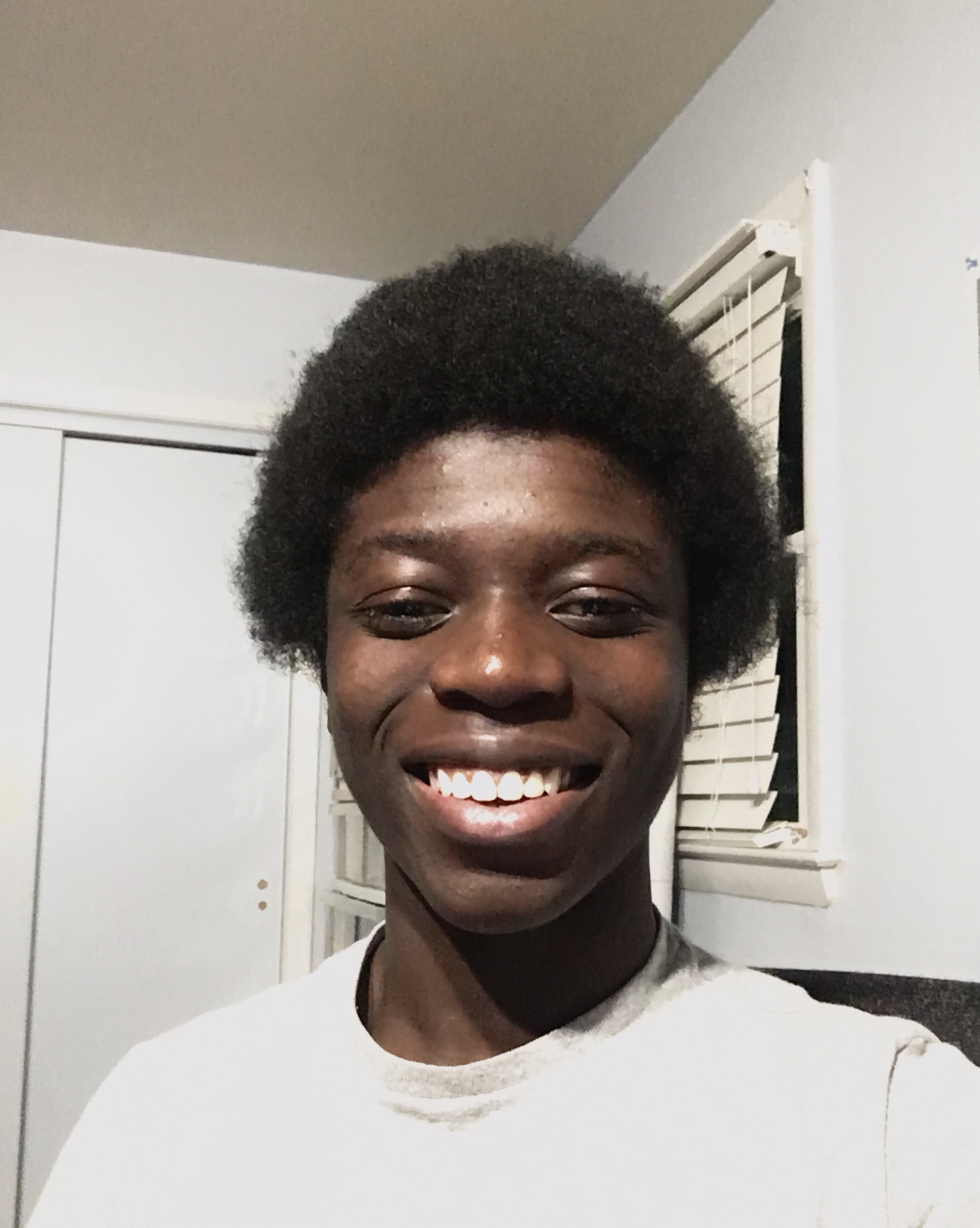 The Sense of Agency and Movement Control Training Environment was designed to offer users a method to improve their sense of agency and movement control through several gamified training tasks. The sense of agency auditory and visual task were designed to function similarly to a "hit the target" game. It implements Haggard et al. (2002)'s intentional binding method which utilizes time perception and sensory feedback to measure agency in a user. The movement control task was designed to function similarly to a "dodge the blocks" game. It utilizes positional and speed delays to obseve a user's perception of their agency in relation to their actual performance. All training tasks were developed in the game engine Unity® and use several additional programs (Blender®, Gravit®, and Visual Studio®) for assets.
Download a PDF Tutorial Document
Sense of Agency Task: Beginner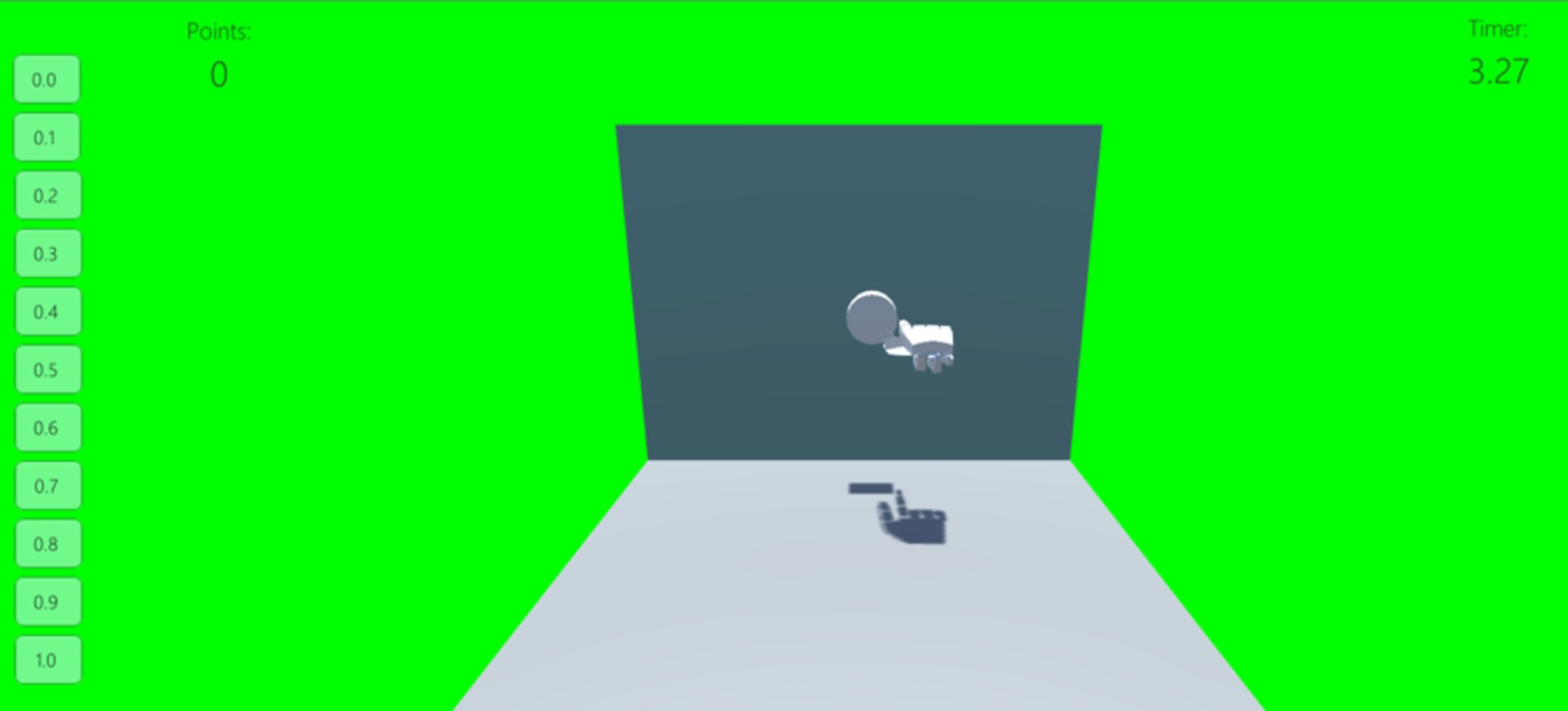 Sense of Agency Task: Advanced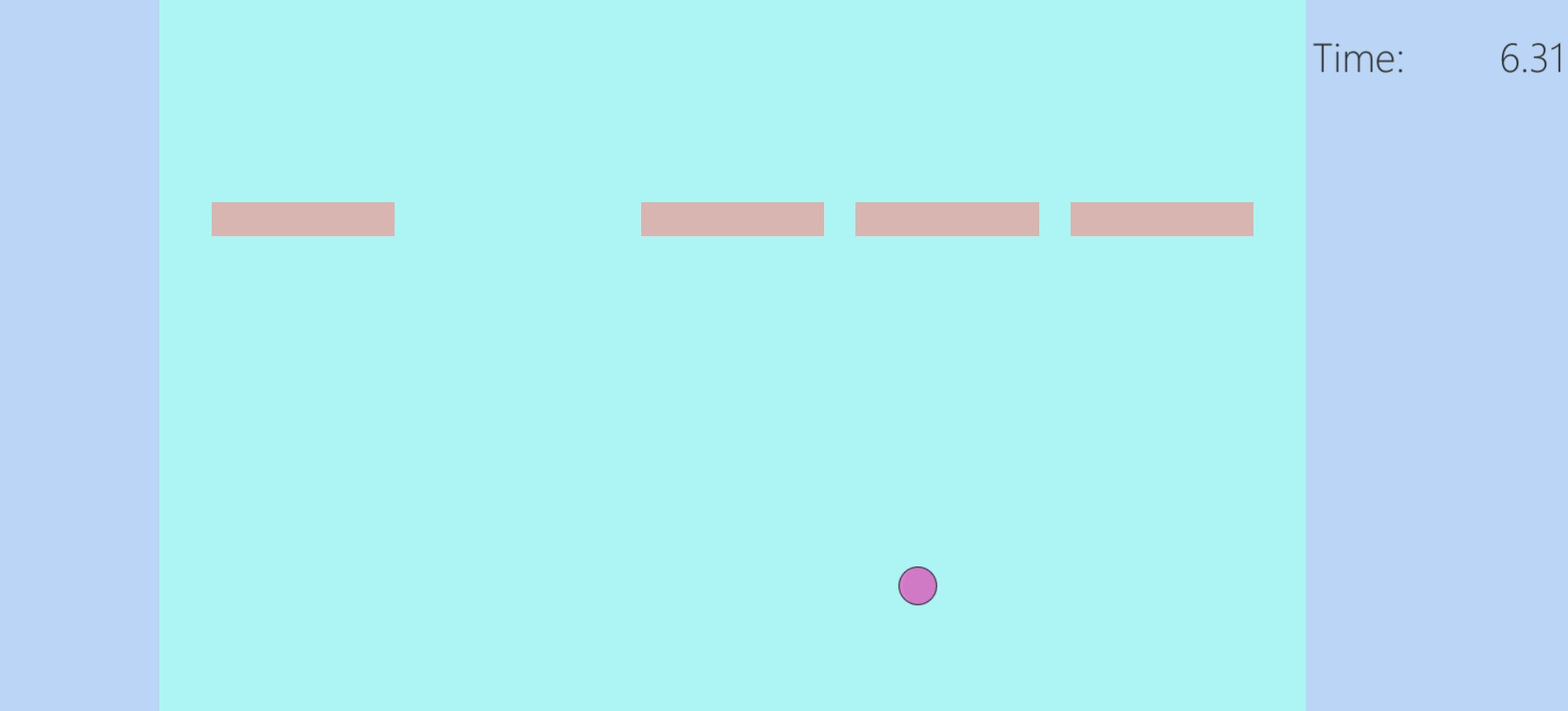 Movement Coordination Task
Advanced Visual Feedback Sense of Agency Task trial
Beginner Auditory Feedback Sense of Agency Task trial
---
Johanna Gomez - Memory and Tracing
---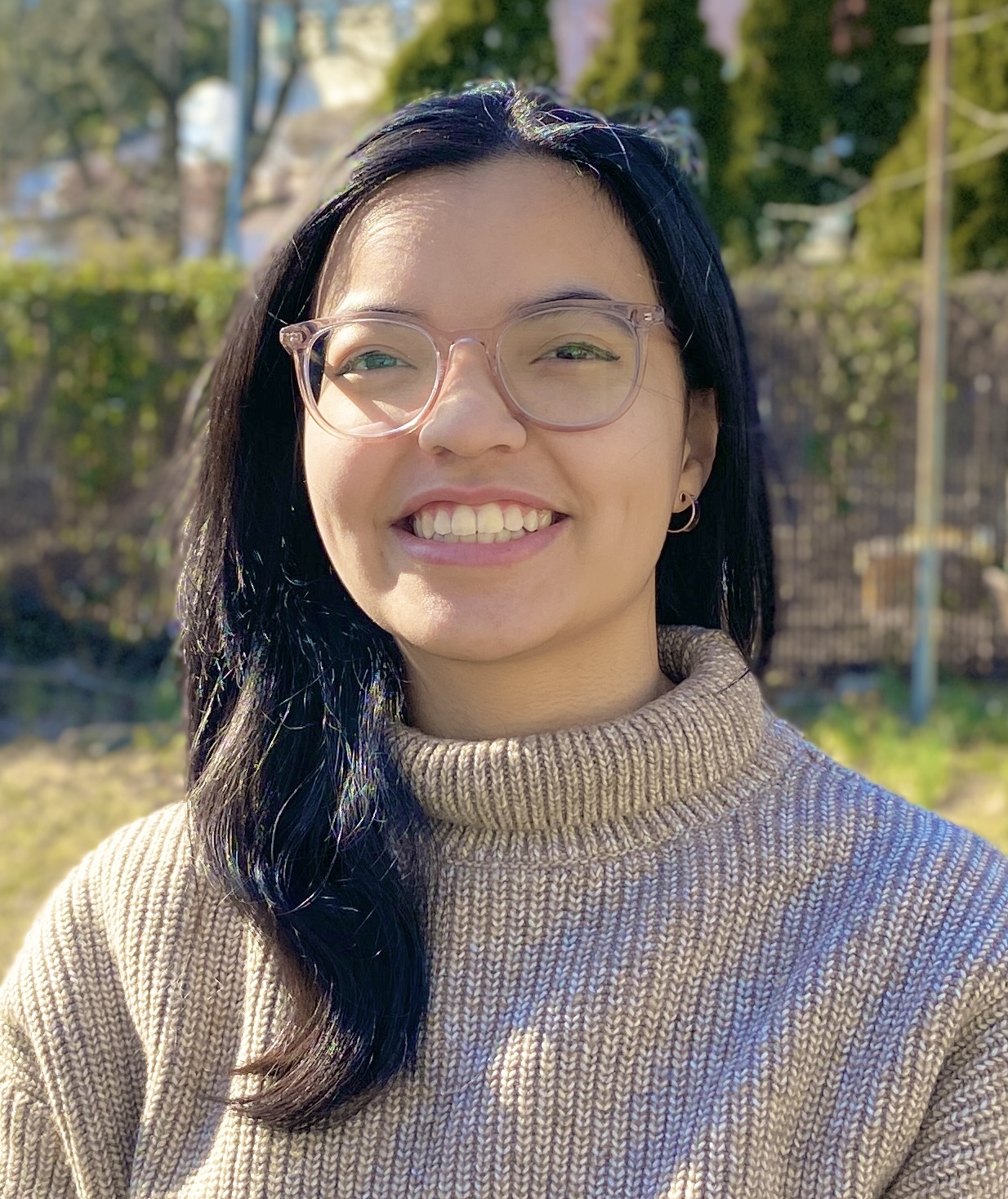 The Memory and Tracing Task is an application designed to put the user through a series of related tests in a gamified environment. The users will draw a shape they cannot see and will be given a series of questions that require them to answer from memory. The image is put through different distortions - rotation, size, shape disfiguration, and color – in which each contribute a factor to measuring cognitive impairment as a symptom of early developing Alzheimer's disease. Inspired by Synofzik et al. (2010)'s use of manipulating visual feedback, the users' sense of their own actions is examined. The user goes through different shapes in levels over the course of the game to be screened and measured for the cognitive disease.
Download a PDF Tutorial Document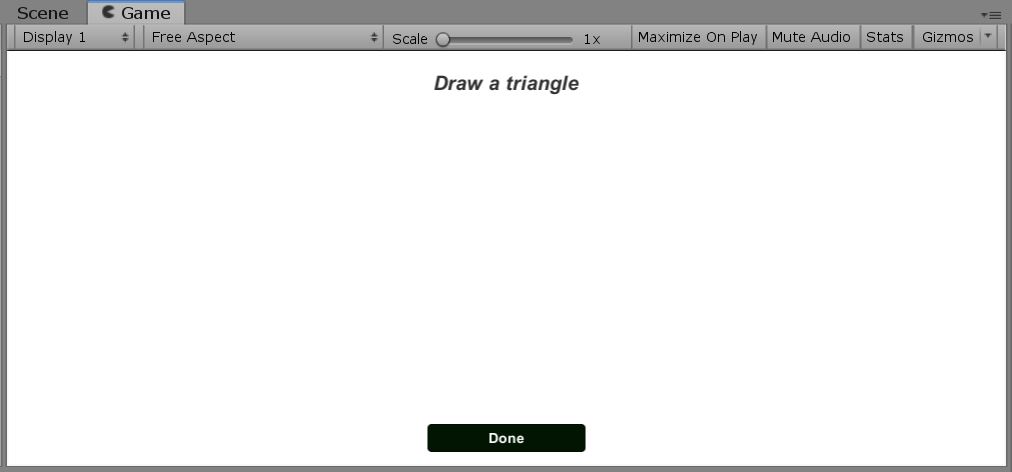 Draw a shape with the computer mouse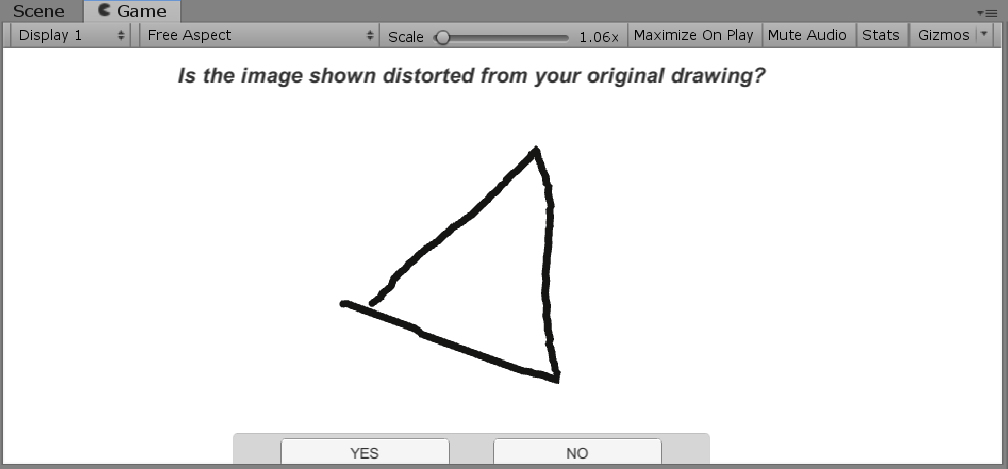 Compare image to the original drawing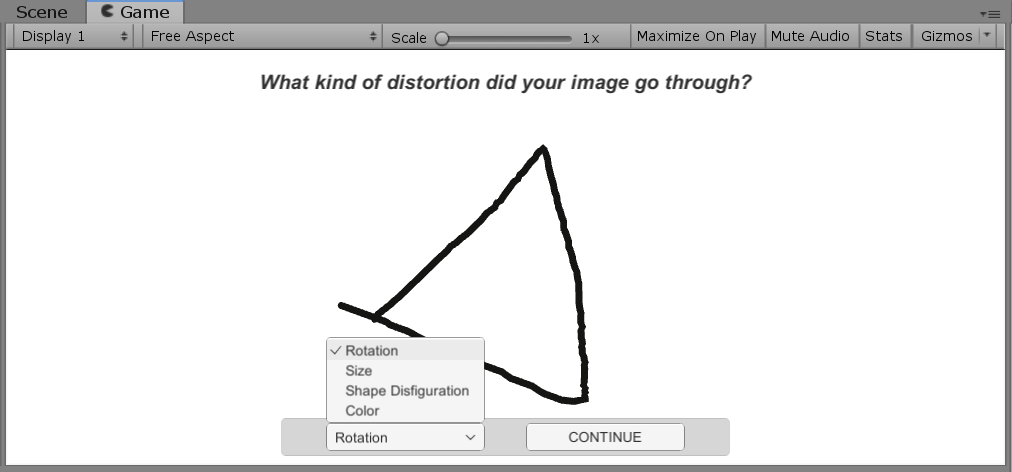 Report any identified distortions
Task Trial: Identifying distortions based on memory of the drawing
---
Matt Neissen - Language Skill Recovery
---
The Motor Control and Language Skill Recovery Application will serve to aid post-stroke rehabilitation of aphasia patients. Patients use a computer mouse to facilitate the transfer of an object across the computer interface. In doing so, patients exercise fine motor skills and cross the midline of their field of vision, addressing two common symptoms of aphasia patients. The application employs bandwidth feedback to visually alert the patient if the object strays from the intended path. Between rounds, patients will complete a language rehabilitation exercise designed to improve word association ability, vocabulary recall, and language-based memory. As reported by Anderlini et al. (2019) in a meta-analysis of aphasia rehabilitation studies, research is scarce on the promising correlation between language and motor recovery. If expanded to a clinical study, this application could assist in furthering this area of research.
Download a PDF Tutorial Document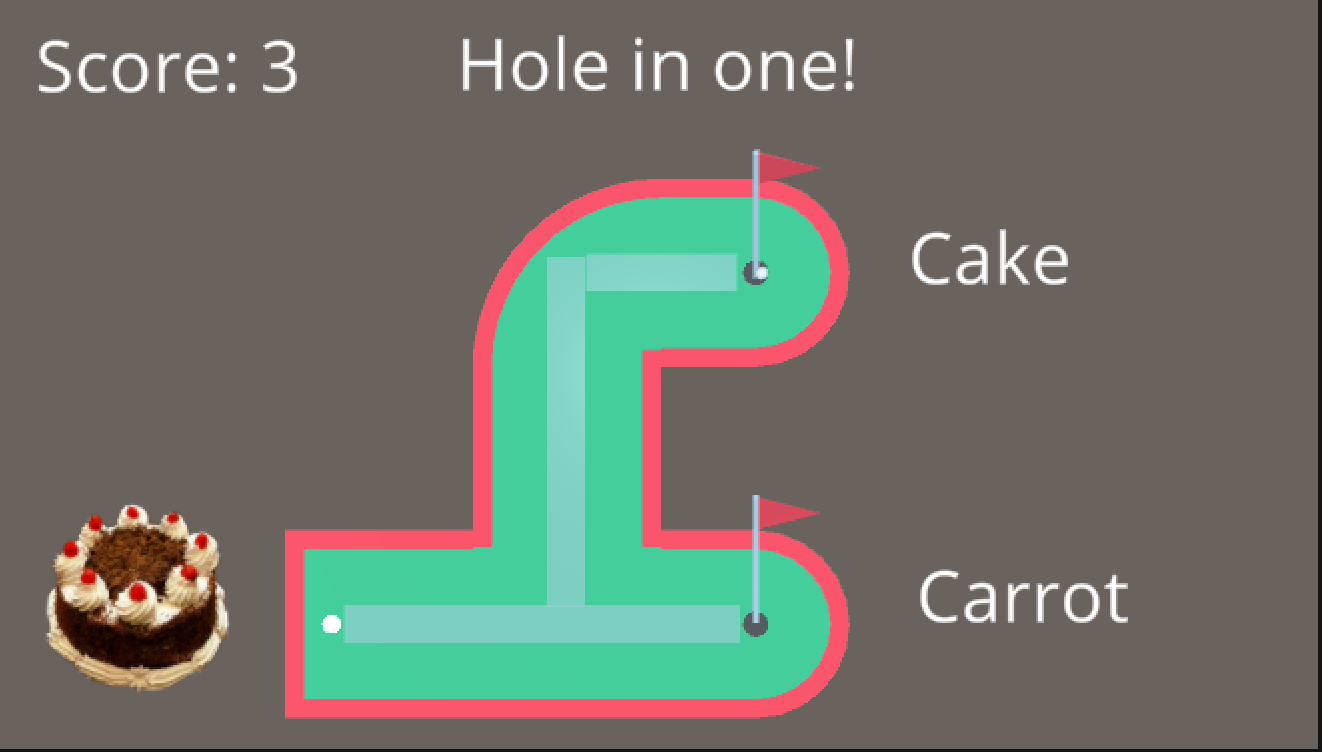 Participant display of a simple task, with no obstructions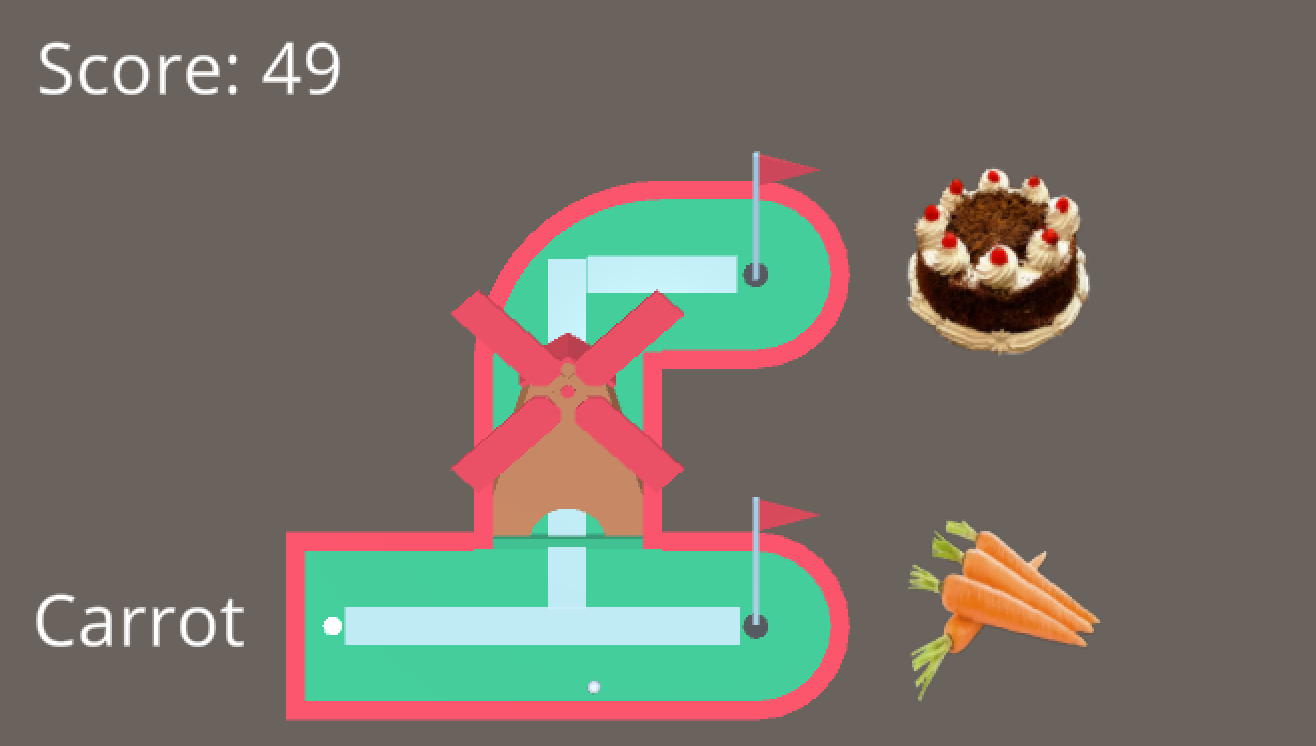 Participant display of a complex task, with added obstacles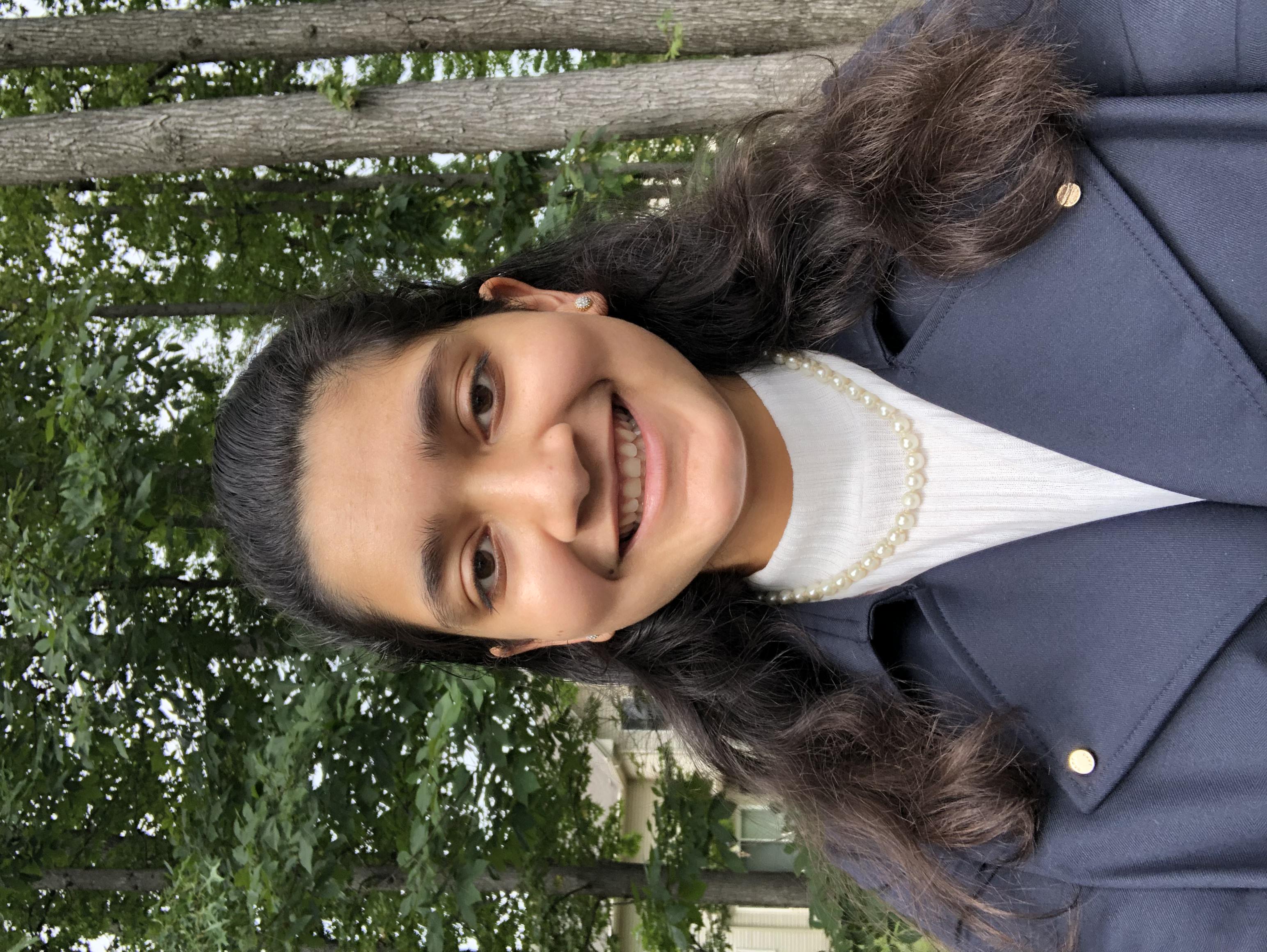 The Fruit Ninja Upper-Extremity Rehabilitation application was designed to help post-stroke patients recover functionality in their arms. In the current version, patients use computer mouse input to slice the fruits that appear on the screen in half. In comparison to the original Fruit Ninja game, this application prompts the patient to slice the fruit in a predetermined direction. This was implemented to facilitate increased cognitive engagement. Systematic reviews have indicated that interventions that enable active participation lead to increased engagement and motivation which leads to increased effectiveness (Brett et al, 2017). The control group and experimental group will receive nearly identical games; however, the experimental group will have an added feature. This added feature will allow participants in the experimental group to choose certain prizes, such as different color blades and backgrounds, as they earn more points. Ultimately, this research aims to study the effects on performance and cognitive engagement if players are allowed to choose their own prizes.
Download a Poster Presentation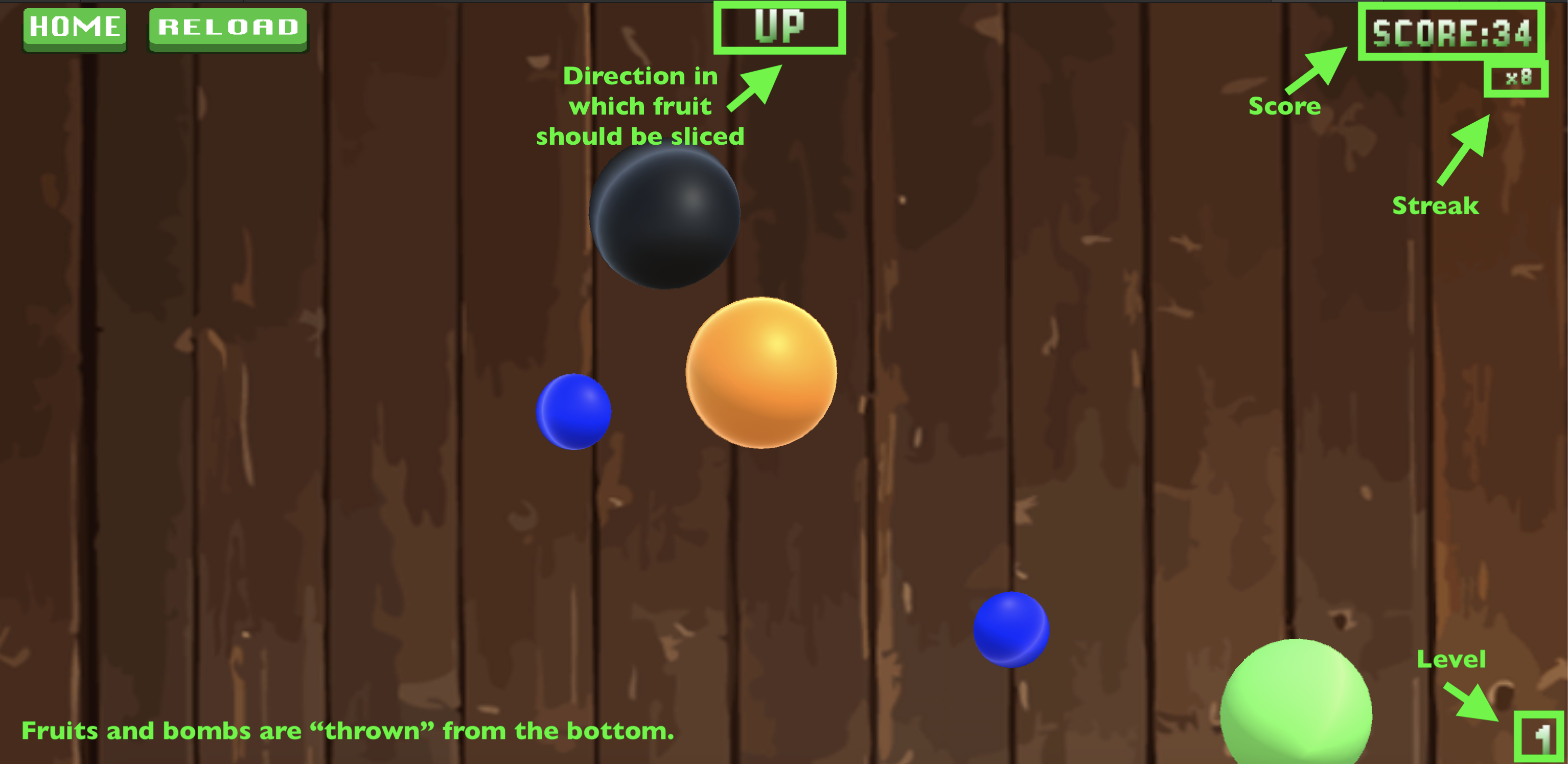 Annotated image of the participants display during the experiment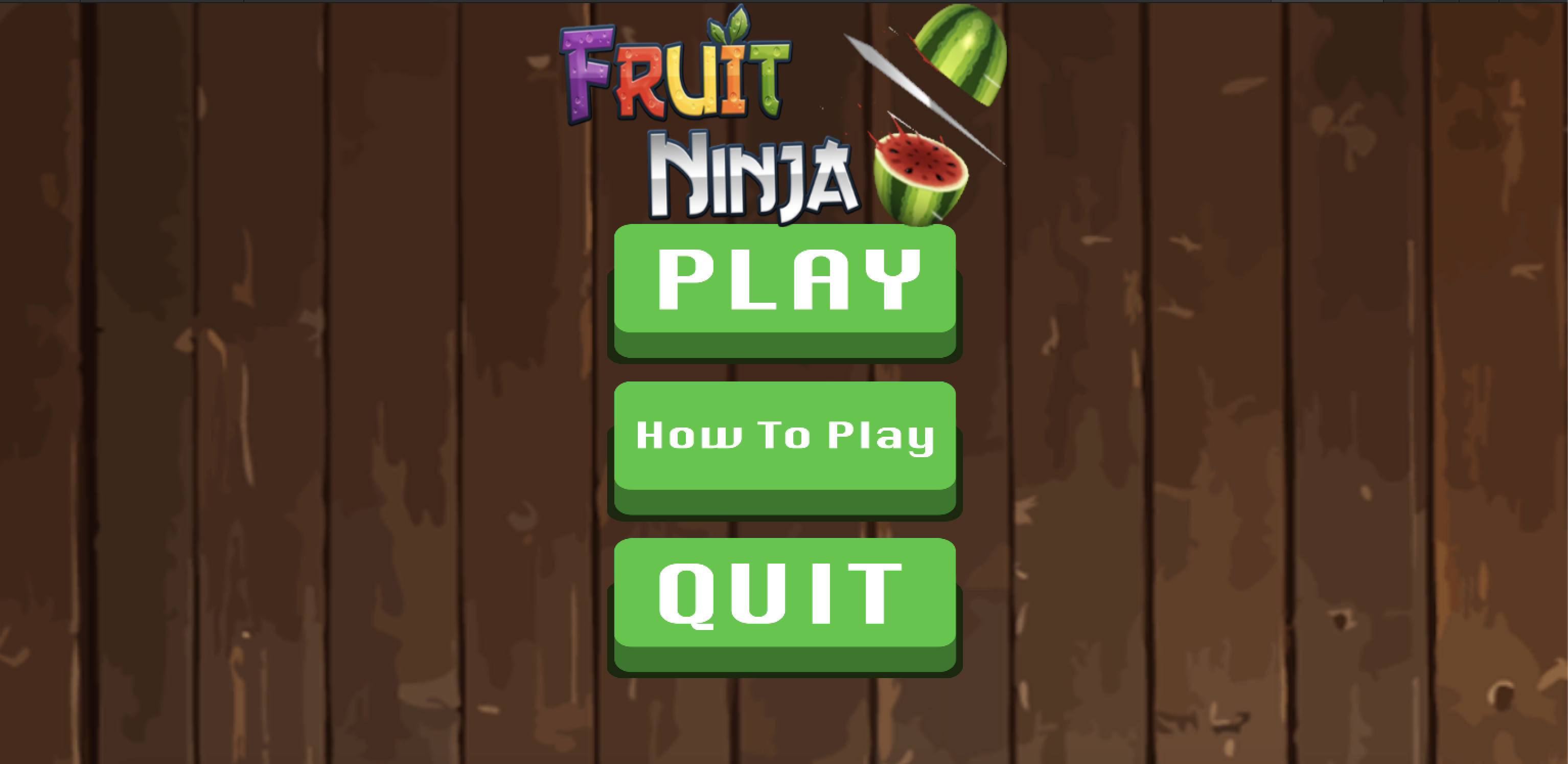 Home Screen: Play, How to Play, Quit
Task Trial: Participant playing the complex version of the game with designated directions to slice
---
Ashita Birla - VR Maze Game for Neurological Rehabilitation Therapy
---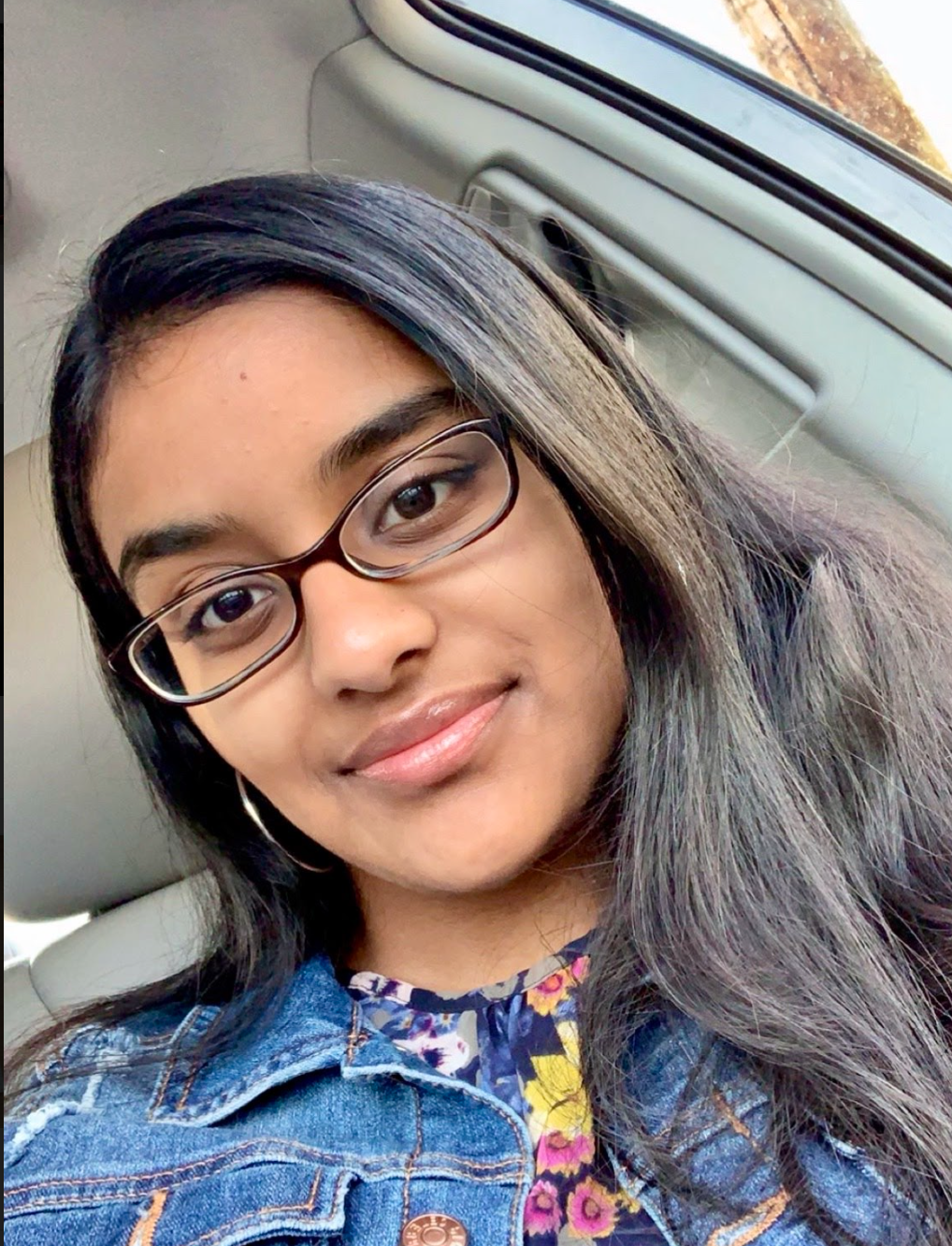 The Virtual Reality Maze Game is designed to focus on working memory rehabilitation for patients with neurological disorders/injuries/deficits. I will concentrate towards the visuospatial sketchpad from the central executive function of the brain as the patients will react to a visual environment with different perspectives to test retention, and whether different perspectives will help or hinder the visual retention. The 10-level (increasing difficulty) game will be played by a control and experimental group. For each of their training periods, they would navigate through a 3D maze without (control) / with (experimental) a preview beforehand and attempt to reach the end point of the maze. In the collective final task trial, both groups would navigate without any preview, but with different fixed start and end points. By comparing the completion times of both groups in the final game, we could test the visuospatial retention of each to see if the preview helped or hindered as well as create newer levels to induce/test improvement in working memory capacity.
Download a Poster Presentation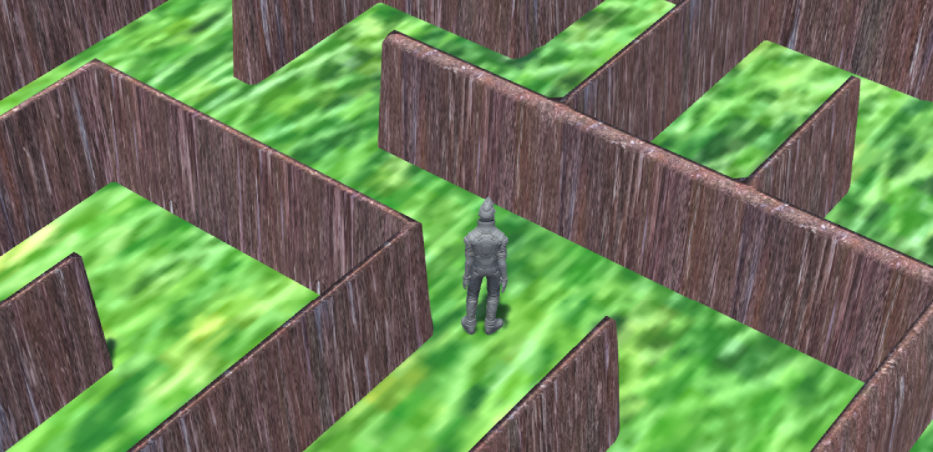 Player navigational view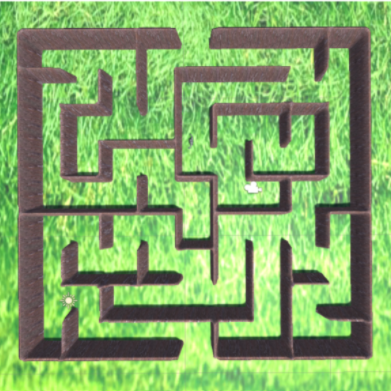 Bird's eye view of the maze
Control group: Same level, no preview
Experimental group: Same level, with preview (10-seconds)
Final task: Same level, same circumstances, changed location + destination
---
Shruti Tyagi - Angry Birds
---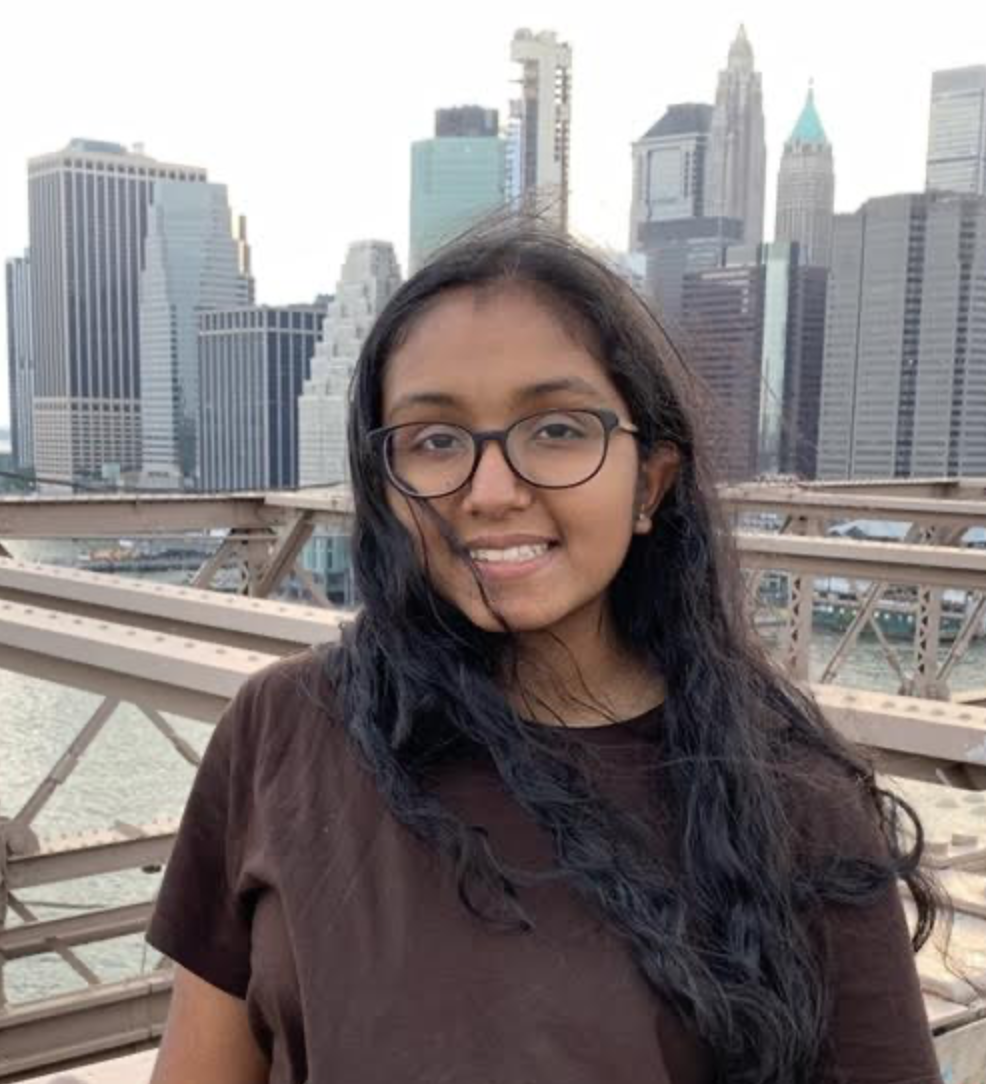 The Amblyopia Occlusive Rehabilitation Game takes a spin on "Angry Birds" to assist patients with amblyopia, or lazy eye, and is designed to be used in conjunction with occlusion therapy, which has shown to be effective for improving vision (Park & Hwang, 2004). It works by allowing the patient to participate in an interactive environment in which they must follow a given trajectory to successfully defeat the alien character. This gives the patients an opportunity to develop their weaker eye and improve the ocular muscles by tracing trajectories in various directions that eventually become more complex. The later levels of the game will include background objects that are identical in the color and size, but not shape, of the line of trajectory in order to make patients actively focus on the objects and differentiate between details.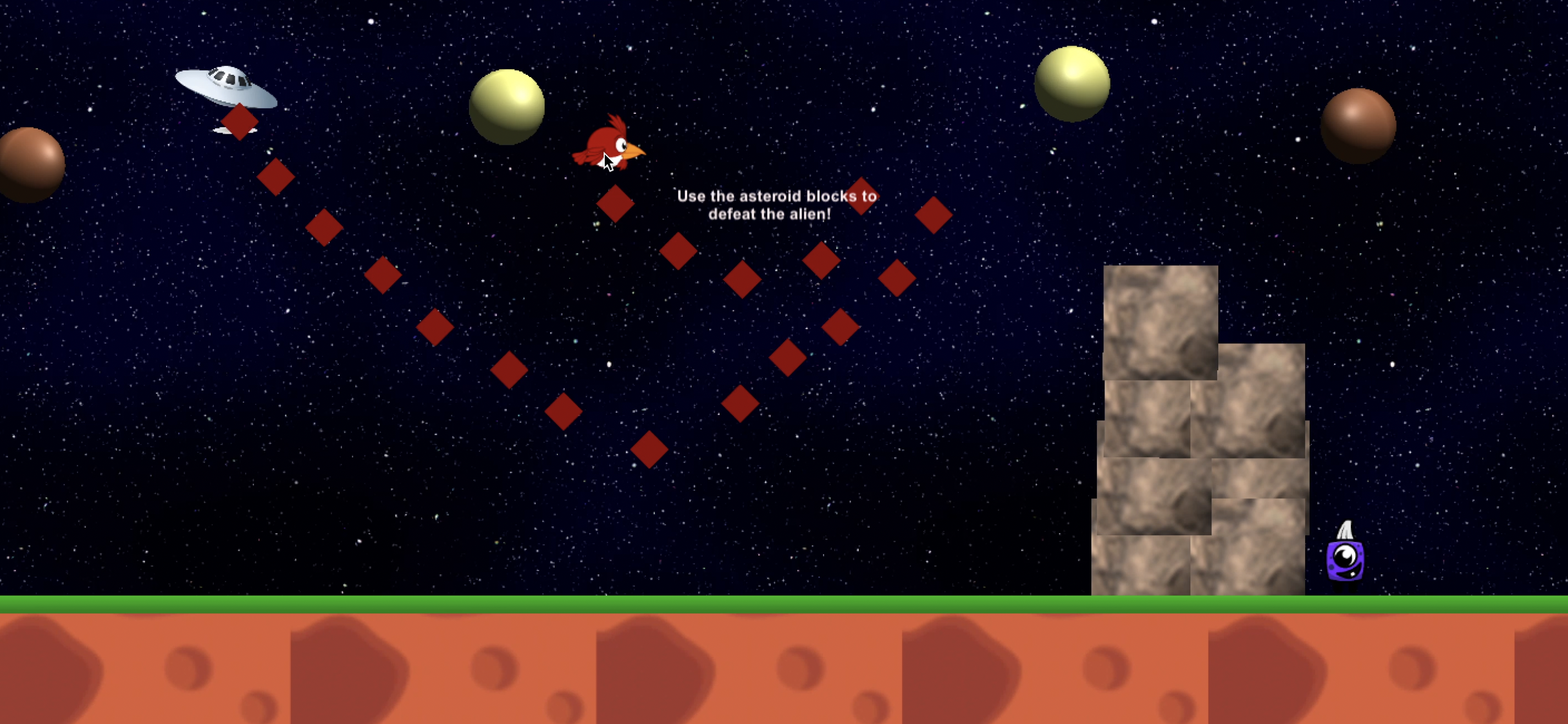 Visual display of the Angry Birds game
Participant display of a simple task, with no obstructions
Participant display of a complex task, with added obstacles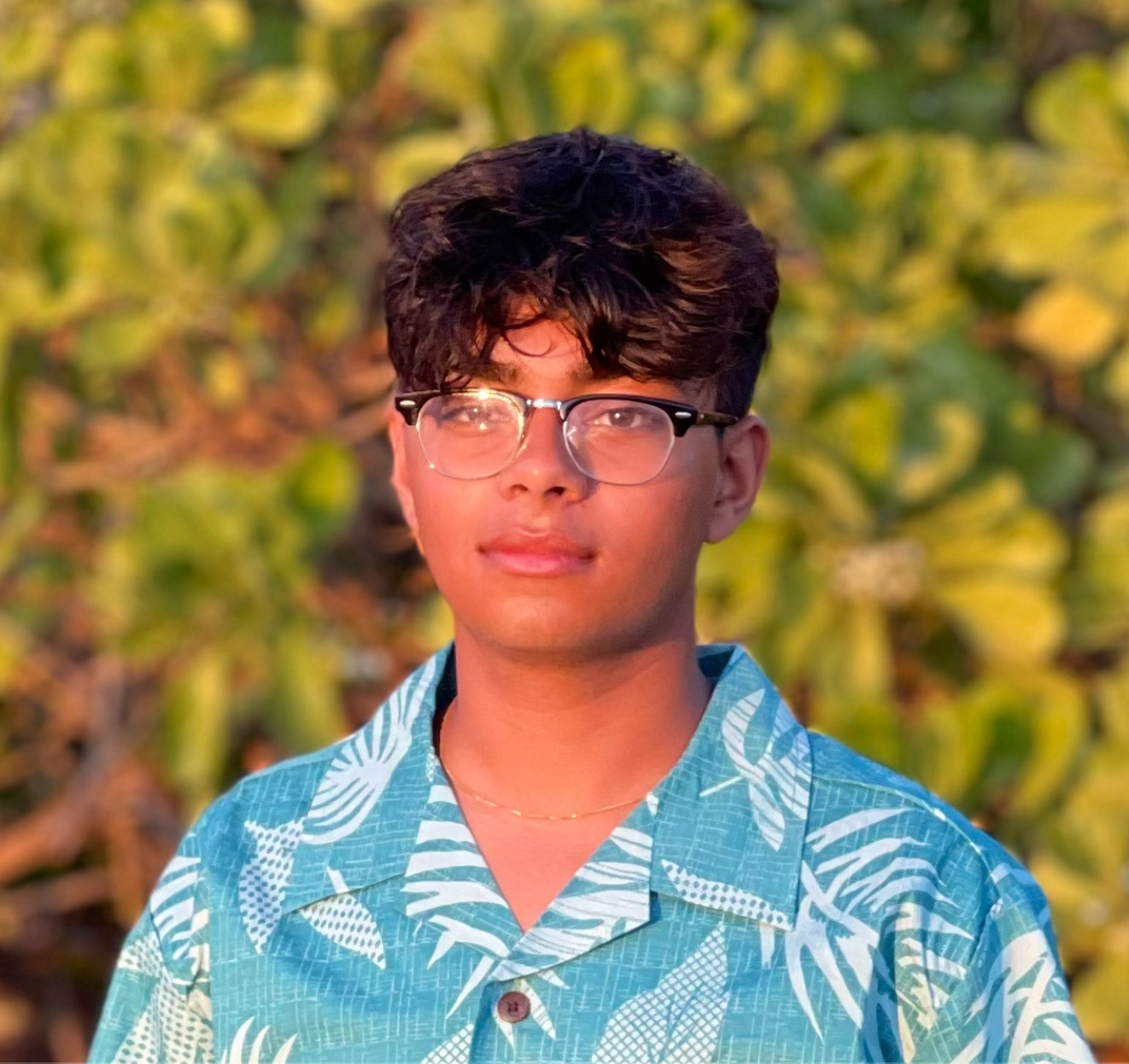 The Beat Saber Rehabilitation game (Beat Saber R), modeled after the popular VR game, Beat Saber, will serve to aid in the rehabilitation of spinal cord injury (SCI) patients. The goal of this game is simple: the user must destroy all blocks approaching them over the course of 90 seconds. This game serves to exercise and refine a patient's fine motor skills and encourage full-body mobility, addressing two common goals of SCI rehabilitation. Inspired by Kizony et al (2017)'s use of VR games to improve changes in mobility, Beat Saber R provides users with natural control of movements in a 3D space to fully immerse the user. This game increases in difficulty in terms of an increase in block velocity and the block spawn rate as the user progresses through each level to ensure progression in the rehabilitation process.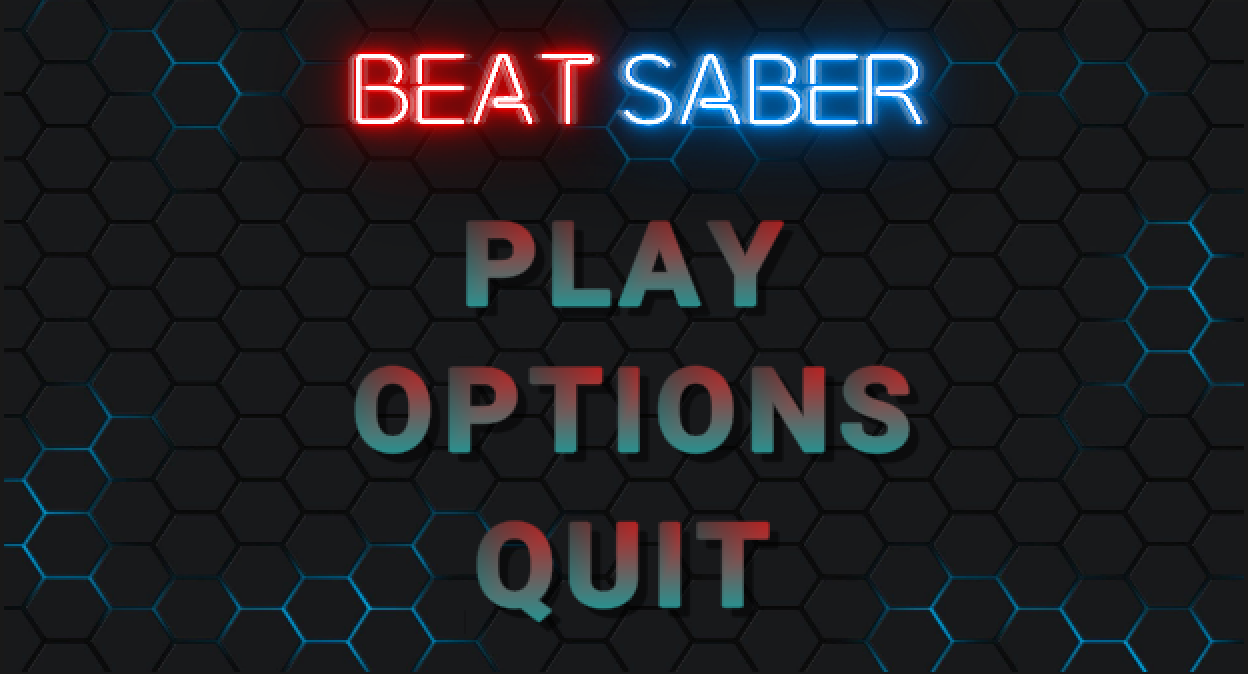 Game Scene - Participant inerface while playing the game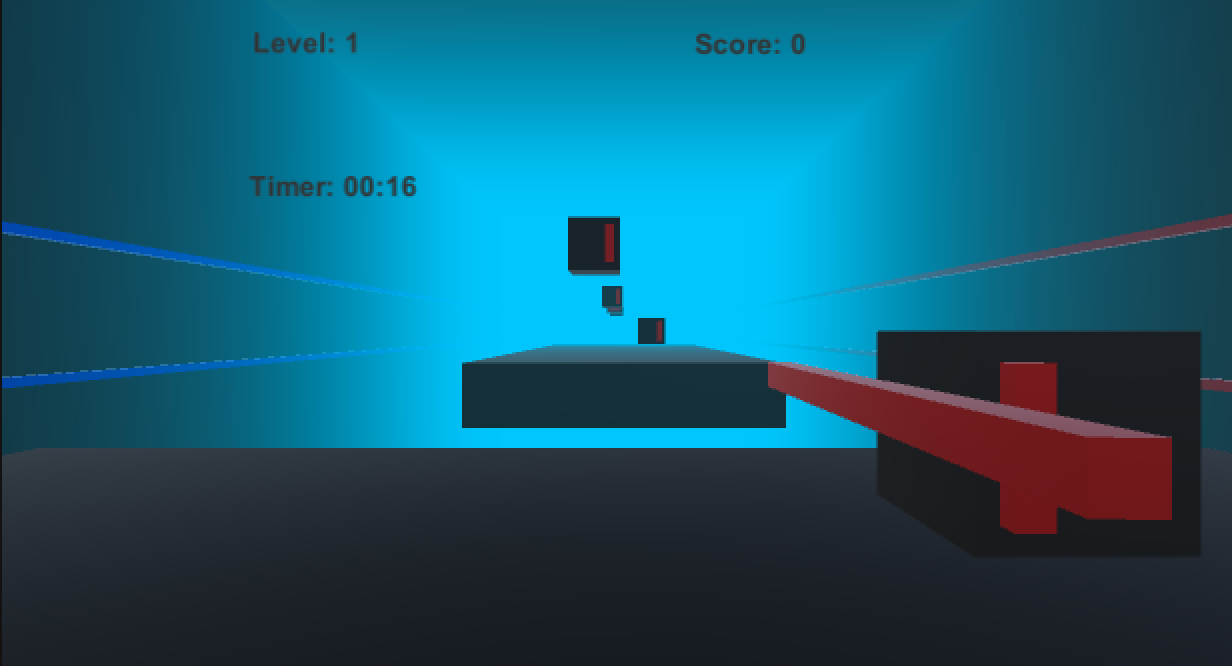 Main Menu - Participant view of the start menu
Game Clip - Clip of participant playing the game
---
Mayur Srinivas - Bandwidth Tracing Task
---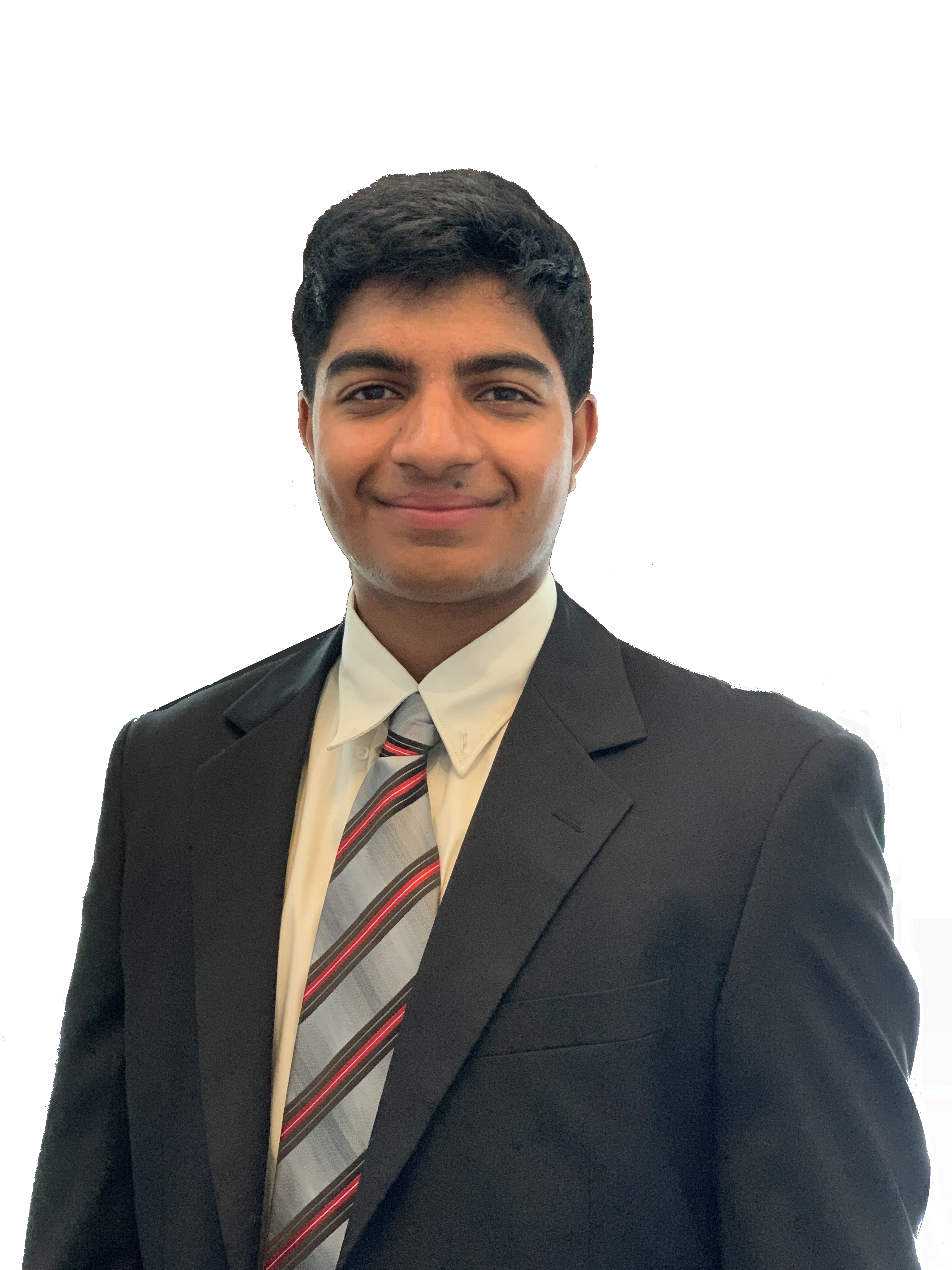 The Motor Control Rehabilitation Environment is a virtual reality simulation that serves to allow patients with neuromuscular disorders to increase control of his/her arm. Several disorders and traumas can impede individuals' daily activities, resulting in a loss of movement control. In this simulation, patients trace given sets of curves (graphs), exercising fine motor skills and control over the patient's arm. The main aim of the simulation is to increase accuracy, or minimize error, when tracing, allowing the patient to advance movement control of his/her arm.
Display of a bandwidth task. The 'band' in black is not visible to the participant during the task
---
Joseph Gisoldi, Micah Rubin, and Liam Sittig - Hand Tremor Rehabilitation
---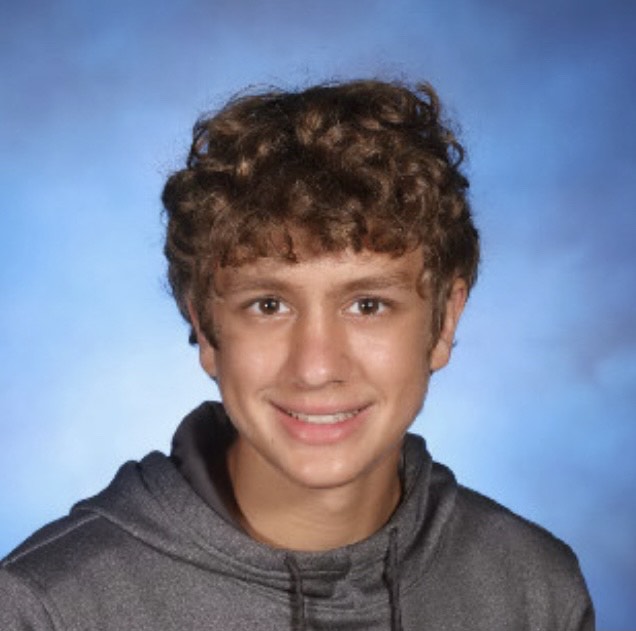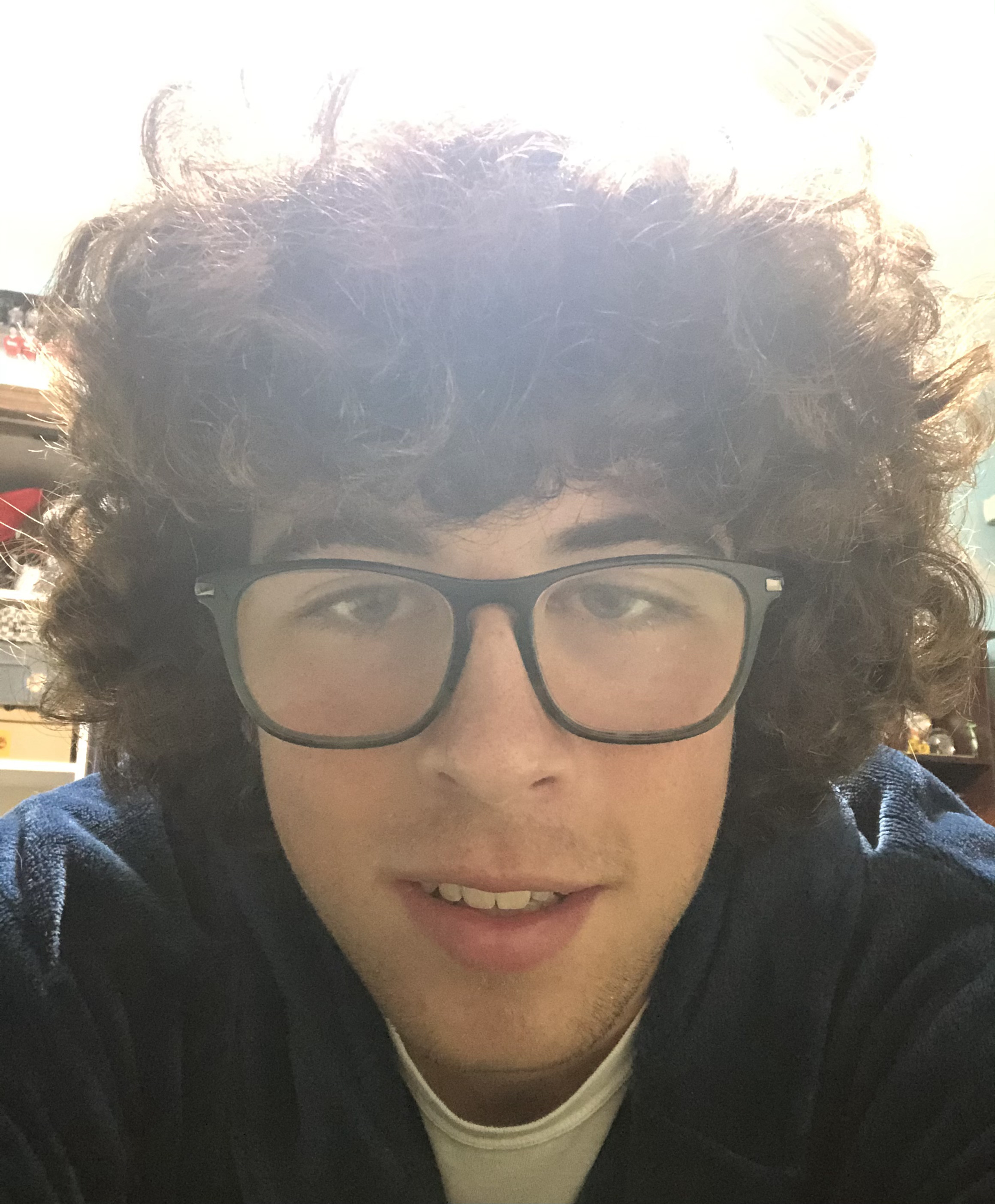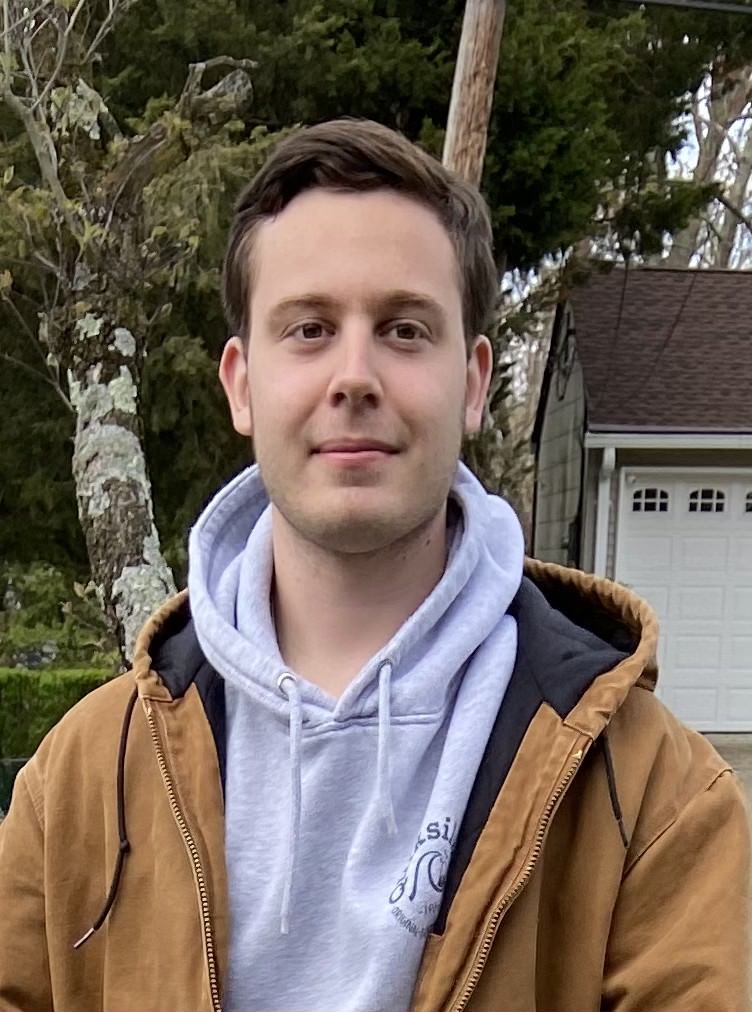 The Hand Tremor Rehabilitation Game is planned to be a virtual reality program in which the user completes common rehabilitation tasks that are used to treat hand tremors, such as weighted or resistance exercises, in a gamified environment. The user will be tasked to complete short, fun minigames, which will increase in difficulty over time to ensure progression.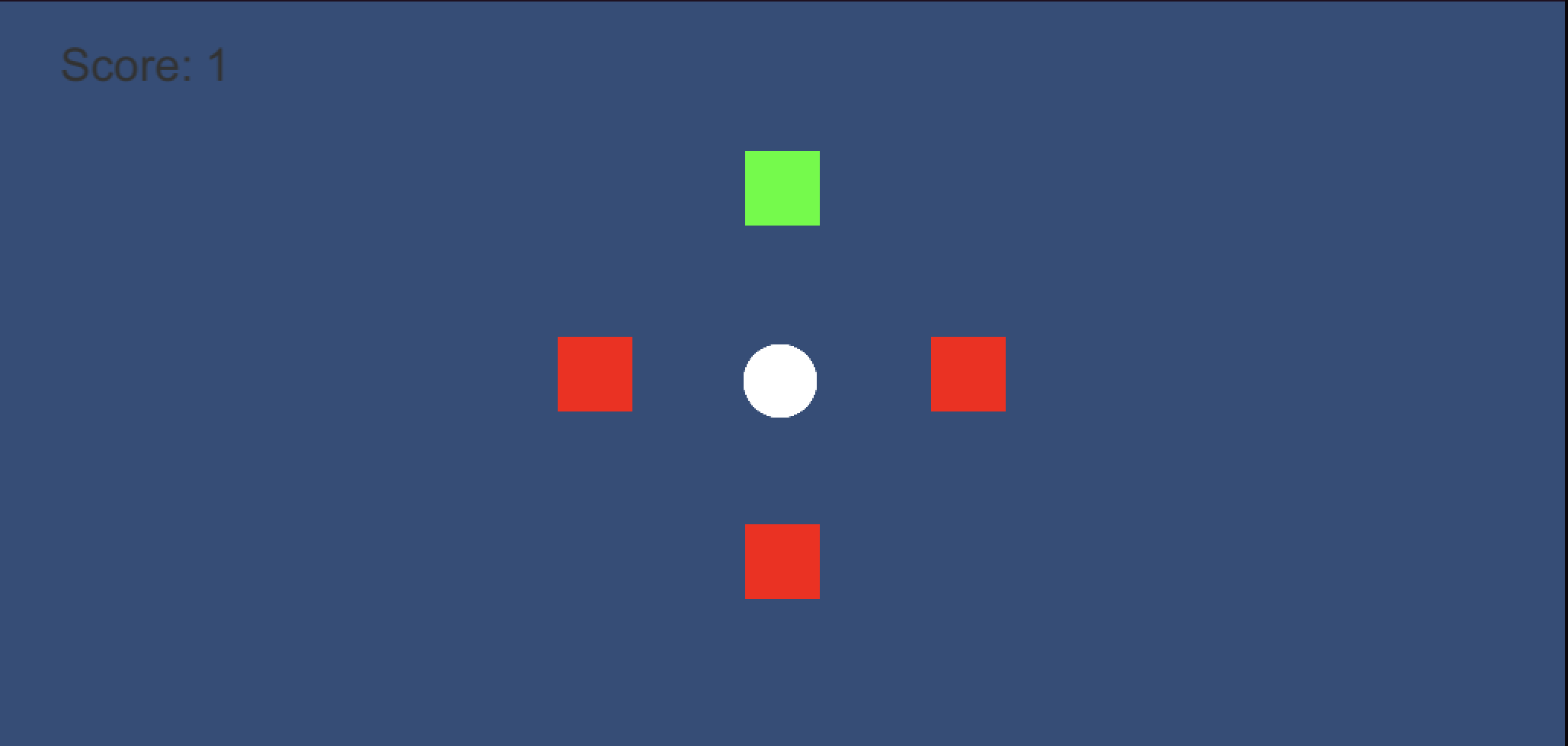 2D flexion/extension task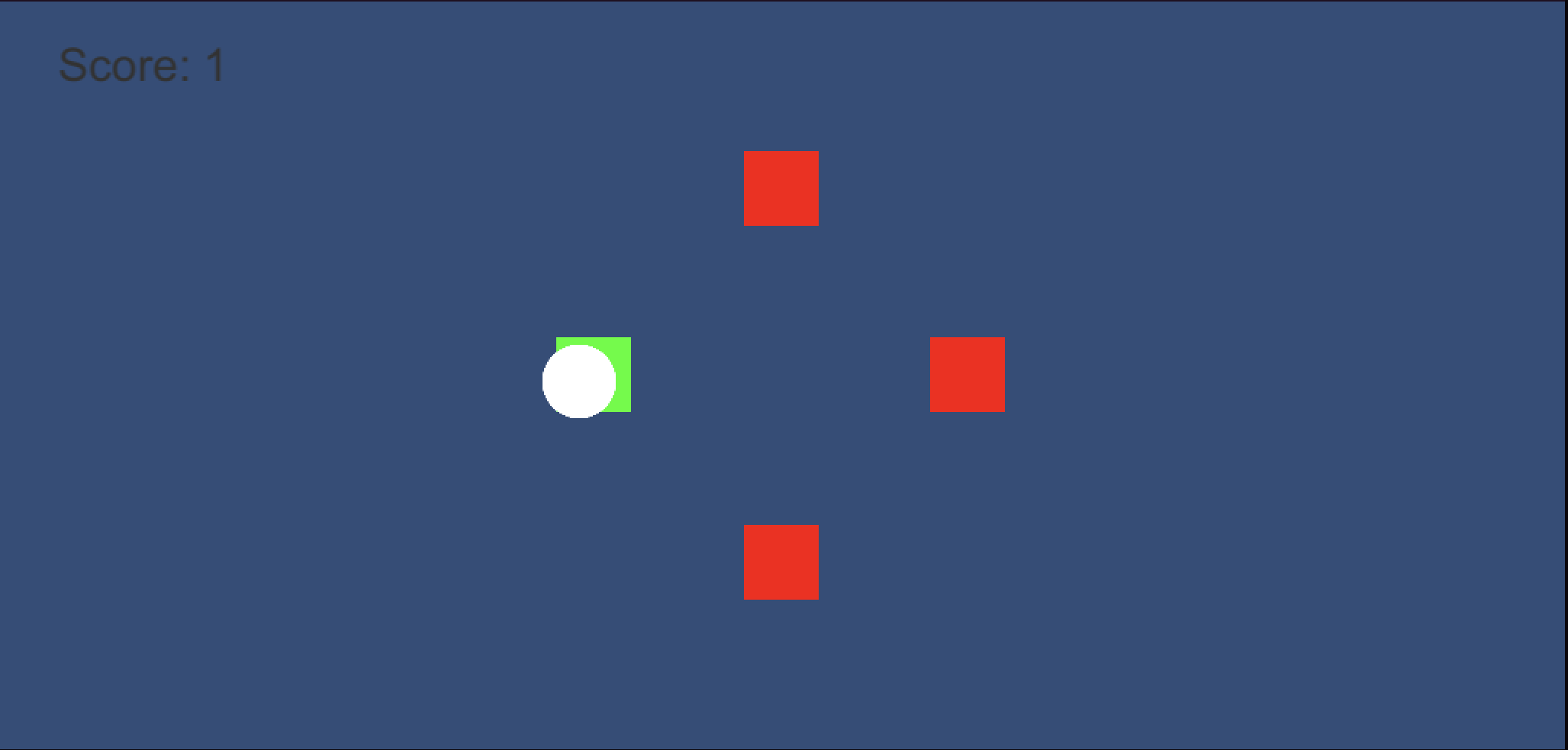 User controls ball with wrist movements
Bandwidth feedback implemented